Worshipful Master's Collar
The WM was pleased to wear his refurbished collar at our meeting on Friday 15 September with the new silver gilt Tercentenary 'ornament' attached. A splendid momento of the 300th year of Freemasonry. And an excellent 2nd degree ceremony with 3 brethren passed to the Fellowcraft degree.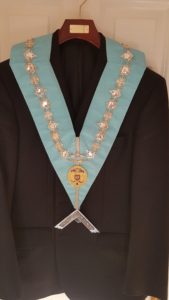 Gifts from member Bro Osorio visiting from Colombia. Coffee & rum; a fitting way to celebrate with our 3 Fellowcrafts.