If you are interested in Freemasonry, wish to join Hotspur Lodge, a Freemason wishing to visit us, or have any questions, please contact our Secretary by email at the address below
Email              hotspurlodge@hotmail.co.uk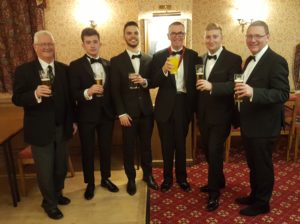 Every Freemason has his own reason for joining.  For many, Freemasonry acts as a 'constant', providing them with a unique combination of friendship, belonging and structure, with many Freemasons saying they have made valuable lifelong friendships. Above all and for most, Freemasonry is simply an enjoyable hobby. Social activities are also a part of this at Hotspur Lodge – see some of our posts.
Other reasons include:
Achievement – progressing through the offices in the Lodge to become Master
Brotherhood – making new friends from all walks of life
Charity – contribute to deserving causes, both Masonic and non-Masonic
Education – learning from peers and mentors by practising and making speeches
Knowledge – finding out about the history of Freemasonry.
Self improvement – making a contribution to your family and society
Self confidence and the ability to learn increases
Want to join the Lodge?
Have a Belief in a God – All religions are welcome and respected
Male and at least 21 years old. University students can join at the age of 18